Troubleshooting steps to do when we cannot start SQL service and receive this alert.
Run –> eventvwr –> windows log –> system and filter the errors and read one by one. You can get a hint that what is the real issue.
OR open the SQL server errorlog and read. — Search this on my computer  'ERRORLOG"
The description for Event ID 7024 from source Service Control Manager cannot be found. Either the component that raises this event is not installed on your local computer or the installation is corrupted. You can install or repair the component on the local computer.
If the event originated on another computer, the display information had to be saved with the event.
The following information was included with the event:
SQL Server (MSSQLSERVER) %%3417
The locale specific resource for the desired message is not present
FCB::Open failed: Could not open file E:\SQLLOG\MSSQLSERVER\mastlog.ldf for file number 2.  OS error: 3(The system cannot find the path specified.).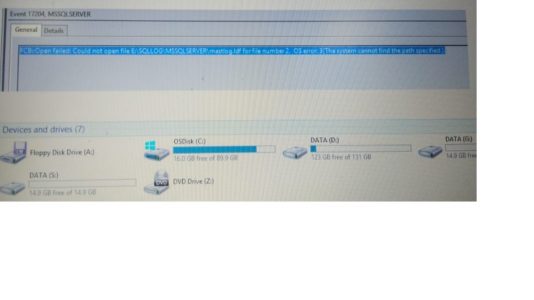 The above case is drive got removed and we mounted again.
Access denied for the folder — Check the SQL service account and check we have permissions.
Search is it moved somewhere when it stopped.